Please enter the link below and fill in the quick questionnaire –
www.theguardian.com/uk-news/2017/nov/03/tell-us-how-you-are-affected-by-the-hs2-route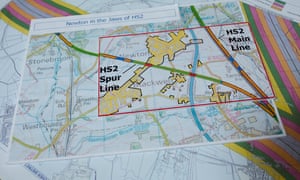 The HS2 rail link will affect many people in regions all along the proposed 140 mile route, with plans that could demolish properties and close businesses. Landscapes are also due to be indelibly altered by its proposed path, and we'd like to hear what the impact will be for you.
Campaigners in the north have this week accused HS2 of a bias towards the south after it was revealed that only 2% of the Yorkshire line is to be built in tunnels, compared with nearly 30% of its track from London to Birmingham.
A HS2 spokesperson talked up the economic benefits for the region after criticism from residents, and added: we are committed to working with communities and stakeholders to identify appropriate solutions to further reduce impacts.
Wherever you live or work along the planned route, and however you or your business or community will be affected in the coming weeks, months and even years, you can get in touch below. You can also share photographs that help tell your story.
How to contribute
We'd like your help mapping the impact of HS2 along its proposed route. If you have been, or are going to be, affected by the route, you can fill out the encrypted form below. Tell us about the impact plans have had so far and your hopes and fears for the future. We'll use some of your contributions in our reporting.
If you have been involved in any campaigning related to HS2 or have worked in any capacity on the project, we'd also like to hear from you.